Teak Clean
Environmentally friendly, non-corrosive single-step wood cleaner & brightener
Regular price
$28.95 USD
Sale price
$32.95 USD
Rinse into Waterways
Non-Corrosive
Bleach Free
Readily Biodegradable
TEAK CLEAN is a safe and effective, non-toxic, organic and eco-friendly alternative to using phosphoric acid or other caustic cleaners. It's specially engineered for teak and other wood surfaces and safely cleans and restores teak decks and wood furniture to their natural color. Teak Clean combines ultra-low pH and superior cleaning performance with exceptional environmental properties. This product may be safely discharged into rivers, streams, oceans and other waterways, when used as directed.
More Details

One-step cleaning process saves time
Not DOT regulated; offers low transportation cost
Low consumption rate, cost-effective
Removes mold and mildew
Contains non-corrosive inhibitors for most metals (not for use on or near aluminum, brass or soft and finished metals)
Appearance: Clear liquid
Solubility: 100% in water
pH: <1
Use & Application

For use on: Teak and all wood surfaces. Do not use this product on or near aluminum, brass or soft and finished metals.

Application: Apply with a pump sprayer or dab onto the surface with a medium-density polypropylene cleaning pad.
Environmental Impact

MARPOL Annex III and Annex V compliant, NPDES compliant, REACH compliant, Readily biodegradable, Phosphate free, Does not contain phenols, Bleach free, and Non-corrosive
Teak Clean vs Teak Magic
Not sure which to use? Teak clean is great for large areas in well ventilated spaces (or outside). It can be applied efficiently with a pump sprayer, or dabbed onto the surface with a polypropylene cleaning pad. Our customers love using it on their teak boat decks and large furniture projects. It should not be used near aluminum, brass, or soft and finished metals.
Teak Clean is a single-step process for both cleaning and brightening.
Looking to treat a smaller area of wood or a project in more sensitive surroundings? Try our two-step Teak Magic.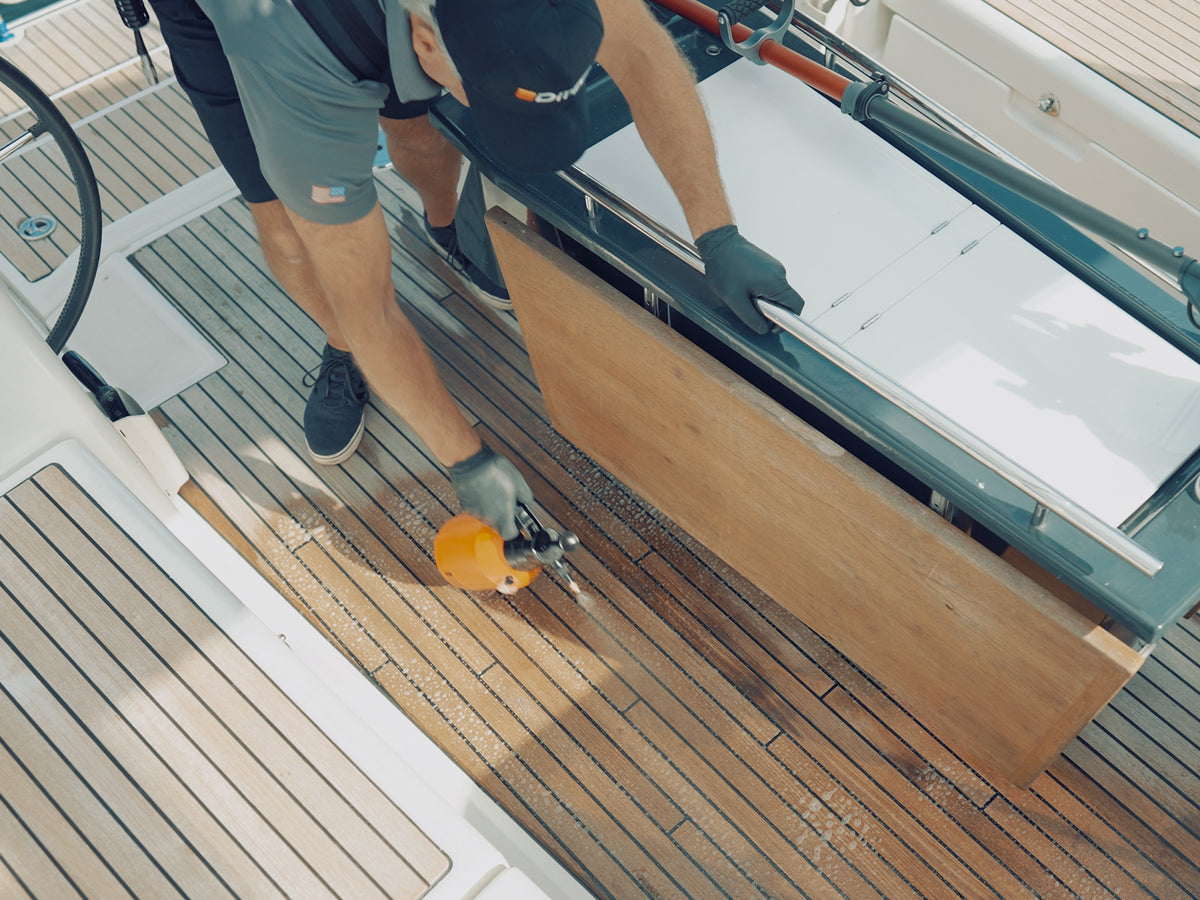 See it in Action Teak Clean
Environmentally friendly, non-corrosive single-step wood cleaner & brightener
The DiTEC Difference
Quality
DiTEC Marine Products
Other Brands
Biodegradable
✔ YES

✘

Mostly NO
Food Grade
✔ YES

✘

NO
Industrial Grade
✔ YES

✘

NO
Heavy Grade
✔ YES

✘

NO
MARPOL Annex
✔ YES
Some YES
MARPOL Annex V
✔ YES

✘

Mostly NO
NPDES Compliant
✔ YES

✘

NO
---
Harmful Chemicals
DiTEC Marine Products
Other Brands
Concentrate
⊘ NONE

✔

YES
Ethers
⊘ NONE

✔

YES
Bleach
⊘ NONE

✔

YES
Nitrates
⊘ NONE

✔

YES
Polymer Waxes
⊘ NONE

✔

YES
Teflon
⊘ NONE
Some YES
Phenols
⊘ NONE
Some YES
Fragrances & Dye
⊘ NONE

✔

YES
Ammonia
⊘ NONE

✔

YES
Acids
⊘ NONE

✔

YES